1. Go to the University website at https://mybenu.ben.edu to login to MyBenU.
Click on MyBenU and login using your network username and password.
2. Click on the "Student Financial Account" tile.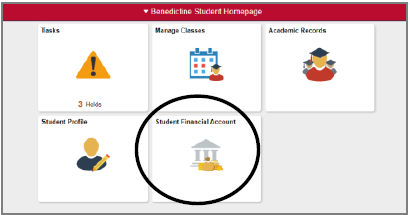 3. Click on "Invoices and Make Payments" from the menu.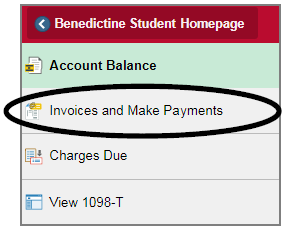 4. Click on the green "Make a Payment" button at the top of the screen.

5. You'll be re-directed to the payment options website – TouchNet. (If you are not
redirected, try clearing your cache, cookies, and/or browser, or try a different browser,
or disable your pop-up blocker).
6. To make a payment from this page, click on "Make a Payment" button, you will be
automatically taken to an "Account Payment" page.

7. You can now select payment options for your current, past, or future amount due by
checking on the corresponding boxes per term.
8. Click "Continue" and a payment options page will load for you to enter the method of
payment.
9. Follow the prompts to make your payment and log out when it is completed.
10. You will receive a receipt via your Benedictine University student email.
If you have any questions, please contact the Student Accounts office, sar@ben.edu