Live transcriptions are available in the Zoom client. Your client must be version 5.4.3 or later.
As attendees talk, Zoom displays the words as closed captions along the bottom of the client, or in a window on the right. Only the meeting host can enable Live Transcripts.
To enable live transcriptions during a Zoom session, click the Live Transcription button on the bottom of the screen and then choose Enable Auto-Transcription.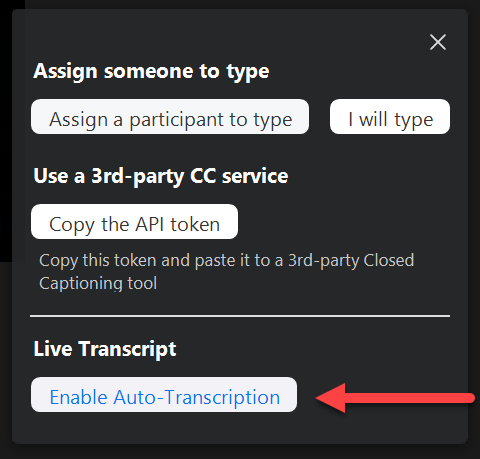 To view the transcription in its own window, click the arrow next to Live Transcript and then choose View Full Transcript.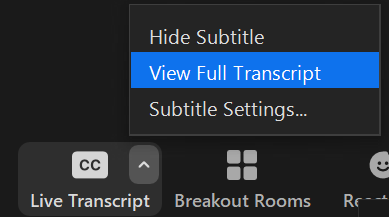 This feature does not create subtitles in the Zoom recording. Subtitles only appear during the live meeting. Hosts who want subtitles to appear in the Zoom recording need turn on Zoom Audio Transcription.
Tips for using Live Transcription with Zoom
Use an External Microphone: An external microphone/headset provides better audio quality and, therefore, more accurately matches what is being said verbally.
Speak Slowly: Speaking slowly enables a more accurate match to what is being said verbally and allows others to follow the automatic transcript or subtitles.
Take Turns/Pause Before Speaking: Zoom's active speaker tracking is used to identify the speaker. When another individual begins speaking, it can take a second or two before Zoom updates the transcript to identify the new speaker.
Monitor the Participants Panel for the Go Slower function: Zoom's Participants panel displays all attendees and shows any nonverbal feedback the attendees provide. When using automatic live transcription, consider keeping the Participants panel open to see if attendees are indicating they need speakers to Go Slower.